Dipstick.com
P. O. Box 6300
427 W. 35th St.
Norfolk, VA 23508
757-624-2121
(9:00-5:30 ET, M-F)
Dipstick@FaceCo.com
About Us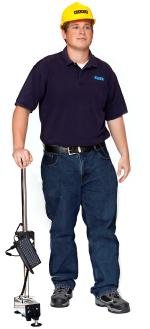 Dipstick.com > All Items

$45.00


$45.00


$250.00

These are special feet that have been developed over several years to allow you to measure the upper edge of concrete forms. If the forms are made or installed with waves in them or not quite horizontal, the concrete that is struck off will have the same flaws built into it. For best results when dealing with high-tolerance floors, measure the forms first and adjust them before placing the concrete.


$75.00

Leg Extensions for Rough Terrain (2 inches/51 mm)


$200.00

Over a number of years, we have experimented with various designs for the Dipstick's contact points with the surface. The current design Moon Feet do not slip, do not drill into the green concrete, and have the smallest Bias ever.