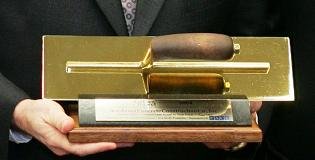 Now in their third decade, The Golden Trowels® are the most prestigious and sought after award in the concrete flooring industry.

Presented by The Face® Companies, Golden Trowels recognize the flattest and most level floor slabs placed in the world in the previous contest year.

The Golden Trowel contest year runs from September 1 to August 31.

A special Golden Trowel, The "Sam" Award was established in 2002 to honor "outstanding accomplishments in and contributions to the art and science of high quality horizontal concrete construction." The Sam is named in honor of Samuel A. Face, Jr., the late Chairman of The Face Companies.

Winners are announced each year at The World of Concrete in Las Vegas.

Email Dipstick@Faceco.com for an official application.






The Face Companies, in cooperation with Concrete Floors Asia, are proud to announce The Golden Trowel Asia™ Awards, a new Golden Trowel competition for projects in Asia. The first annual Golden Trowel Asia Awards will be presented in the summer of 2015 for floor slabs constructed during 2014.



Click Here to Read the 2010 Golden Trowel News Release



---
2009 Golden Trowel Winners
Click Here to Read the 2009 Golden Trowel News Release
---
2008 Golden Trowel Winners
Click Here to Read the 2008 Golden Trowel News Release
---
2007 Golden Trowel Winners
Click Here to Read the 2007 Golden Trowel News Release